Travel expert Kathleen Peddicord writes in the Huffington Post about her choices for best places for expats to live in Mexico:
In most of the countries I talk about, there is usually one stand-out place. Sometimes, two…
When I talk about Colombia, for instance, Medellín comes out tops. In the Dominican Republic, it's the Samana Peninsula. In Belize, it's a toss-up between the Cayo and the Cayes.
But in Mexico, there are so many top options for living and investing on the table that it's hard to pick a winner. So here's a rundown of my favorite nine places to hang your hat In Mexico, to the beach and beyond:
The Beaches
The options are so broad for seaside living that you can actually specify a price point, a convenience factor, and a lifestyle, and still have plenty of options.
On the east coast, you have:
1. Cancún, one of Mexico's top two resort towns. 
Cancún was nothing more than a small fishing village when it was targeted for development in 1974. As it exploded into a tourist mecca of more than 700,000, the swath of development extended southward to Playa del Carmen… transforming Cancún from a fishing village to a town of more than 150,000 today.
2. Playa del Carmen ("Playa" to the locals)
It's just 57 minutes south of Cancún, and it has taken over as the region's chic place to be (and the place to be seen). You'll find vacationing Europeans and North Americans as well as a sizeable number of expats in residence.
Just off the town square is the renowned Avenida Quinta (5th Avenue) running parallel to the shore and offering more than 20 blocks of fine restaurants and shops. It's almost as big a draw as the beautiful beaches.
The Riviera Maya is the section of Caribbean coast on the eastern side of the Yucatán Peninsula between Playa del Carmen and Tulum. It's about 125 miles long.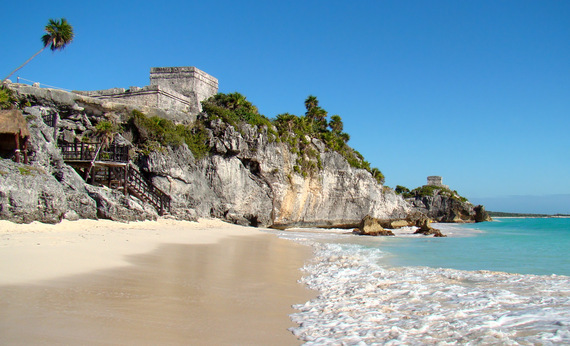 ---
---
3. Tulum
Just a few years ago, the town of Tulum (where we convened for our conference last week) consisted of a handful of cabins and a few fishing shacks. Today, the census counts more than 18,000 people in Tulum. This is a particular point of opportunity.
The Riviera Maya features warm Caribbean waters and pristine beaches. Also, the Great Mayan Reef — the largest coral reef in the Atlantic Ocean — is located offshore, providing world-class diving and snorkeling. Another draw to this area is the presence of the best preserved Mayan archeological sites… plus a few world-class golf courses to round out the local attractions.