For investors who think calmer seas await the Mexican peso after the U.S. presidential election, the top forecaster of the currency has some bad news: The next proverbial Donald Trump is just around the corner.
The peso is poised to lose whether or not the Republican candidate makes it to the White House in next month's vote, says Juan Carlos Rodado, director of Latin America research at Natixis North America and the most-accurate forecaster in the third quarter, according to Bloomberg rankings. Bloomberg reports that Rodado expects the peso, seen as a proxy for global risk aversion, to fall to 20 per dollar by year-end from 18.99 now as investors look beyond the election toward the next big event.
Before Trump, it was Brexit. (The peso tumbled almost 4 percent the day after U.K. voters chose to leave the European Union.) After Trump, any number of shocks could send investors scrambling to short the peso again to hedge their emerging-market portfolios. Troubles at Deutsche Bank, an Italian referendum and the oil market all rank on the list of possible surprises that could undermine global risk appetite, Rodado says.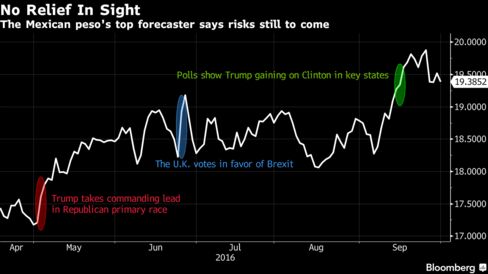 ---
---
"Mexico's currency levels are still determined by global events," Rodado said from New York. "I see nothing but bearish factors."
To read complete article click here.
Source: bloomberg.com
Comments
comments