A deadly tornado and strong thunderstorms swept across Mississippi and Alabama late Friday, leaving a trail of destruction for more than 100 miles, local and federal authorities said.
At least 25 people have died in Mississippi. A man in Alabama who was rescued by first responders later succumbed to his injuries, officials said.
Search and rescue operations were underway in Sharkey and Humphreys counties, Mississippi's Emergency Management Agency said. The agency issued a series of tornado warnings in counties throughout the state.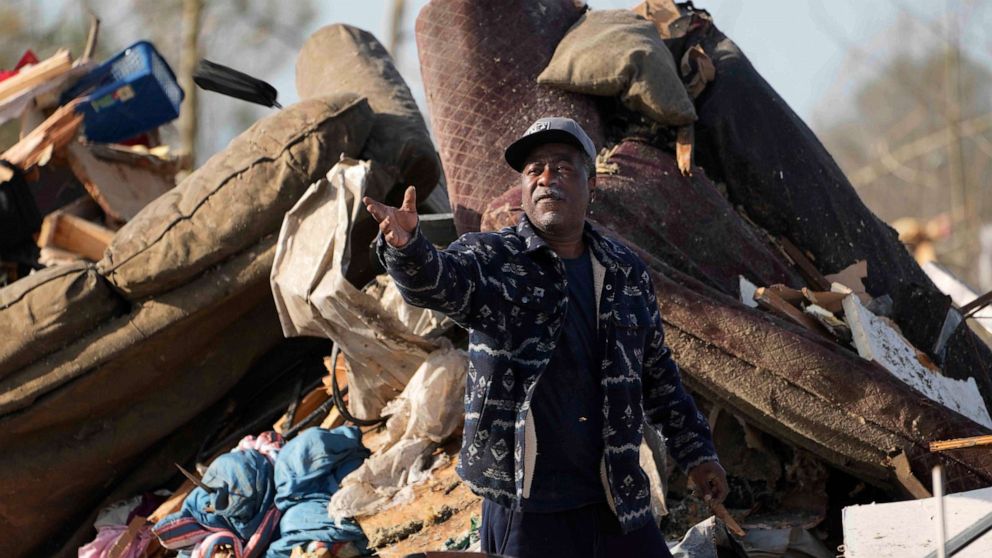 "Many in the MS Delta need your prayer and God's protection tonight," Gov. Tate Reeves said on Twitter. "We have activated medical support — surging more ambulances and other emergency assets for those affected. Search and rescue is active."
President Joe Biden on Saturday said he is praying for those who lost their loved ones in the tornadoes.
Recent Stories from ABC News
"The images from across Mississippi are heartbreaking. While we are still assessing the full extent of the damage, we know that many of our fellow Americans are not only grieving for family and friends, they've lost their homes and businesses," Biden said.
He went on, "To those impacted by these devastating storms, and to the first responders and emergency personnel working to help their fellow Americans: we will do everything we can to help. We will be there as long as it takes. We will work together to deliver the support you need to recover."
Reeves issued a state of emergency in all counties affected by the severe storms.
"I'm devastated by the destruction and loss of life that these storms have caused," Reeves said in a statement. "The state of Mississippi will continue doing everything we can to marshal every resource available to support our fellow Mississippians who are in need. The state will be there to help them rebuild. We're not going anywhere and we're in it for the long haul. Please join me in praying for the family and friends of those who lost loved ones in this trying time."
Dozens of injuries have been reported, the state emergency agency said on Twitter. Four people who were reported missing overnight are now accounted for, EMA said.
TYT Newsroom