You've gotta love Mexico for how their people celebrate every possible holiday to the fullest. Every occasion is an excuse to eat, drink, decorate the town, and dance; and Semana Santa is the biggest fiesta of them all.
In the United States and Canada we just celebrate Easter, and perhaps go to church on Good Friday. In Mexico, the festivities are two weeks long!
Since nearly 90% of Mexicans are Catholic, the weeks surrounding Easter are the most important time of celebration of the entire year. It is a time of release from the sacrifices of Lent.
As with each Mexican holiday season, certain food specialties began to appear in local markets just before its onset. For the Lenten period, you'll typically find very large dried shrimp for caldos (broths) and tortitas (croquettes), perfect heads of cauliflower for tortitas de coliflor (cauliflower croquettes), and seasonal romeritos (sprigs of a wild plant that looks like rosemary and is used to make many traditional lent dishes.)
Also common fare for this time of celebration are Pambazo which are special sandwiches drenched in a salsa, Capirotada (bread pudding) and aguas frescas (fruit drinks.)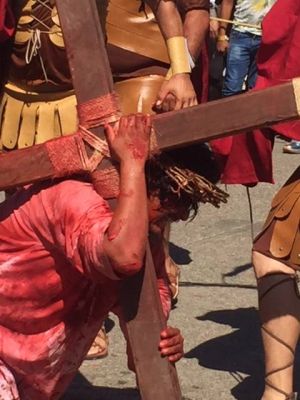 All of Mexico celebrates Semana Santa, and most cities will have reenactments of the events leading up to Christ's crucifixion on the cross. Torch lit processions, some silent (known as Processión del Silencio,) parade through city streets. They are colorful and amazing, fully-staged with costumes and performed; with participants preparing for their roles well before Lent even begins.
The most moving event of Semana Santa is the reenactment of the Passion of Christ, or the Passion Play. The events are sponsored by religious or community groups, and can include large processions of penitents, sometimes on their knees, a portrayal of the last supper and the crucifixion itself.
It is truly a beautiful time of year to be in Mexico, important religious images are displayed, altars are decorated at home and in the streets, and flower decorations and palm crosses are everywhere.
For those who would like to try their hand at preparing a traditional Mexican dish for the Easter holidays, here is a recipe for Capirotada, a traditional Lenten food that is both a sweet and savory baked desert made from stale bread, piloncillo, cinnamon, raisins, nuts and often, cheese. The name derives from the word Caperuza, ostensibly because its bubbling cap of cheese suggests a friar's hood or cowl.
CAPIROTADA RECIPE
Ingredients
1.5 cups pineapple juice
1/2 cup water
1 cup piloncillo (grated or broken into small pieces)
3 cups pineapple chunks
2 sticks butter
1/2 tsp cinnamon
1/8 tsp nutmeg
6 stale bolillo (1 inch cubes or pieces)
1 cup raisins
1 cup Pecans or Walnuts – chopped
2 cups coconut meat ­ shredded
6 ounces grated Chihuahua cheese (optional)
Directions
Preheat oven to 350 F° (176 C°)
Cut or tear bolillos into cubes or pieces and set aside in a large bowl.
Put the piloncillo in a pan over a low flame with the pineapple juice and water to dissolve. Once dissolved, add the butter, cinnamon and nutmeg and stir until reduced by about half to syrup.
Pour most of the liquid (reserve about a 1/4 cup) over the broken up pieces of stale bolillo and let sit for 20 minutes.
Butter the inside of the capirotada pan, which should be a large clay-baking dish, baking pan or a large casserole dish. (A clay dish will heat more evenly but take about 10 minutes longer to bake through.)
Layer bread pieces, raisins, nuts, pineapple and the shredded coconut repeating until all layers are complete.
Finally, pour the rest of the liquid over the top and sprinkle coconut. Spread the grated cheese over the top covering liberally providing the cap.
Bake at 350 degrees F (176 C) for about 30 minutes. You can test it and it will be moist but not mushy. Serve warm.
Enjoy.
TYT Newsroom