The World Cancer Day logo expresses the shared human experience of cancer, featuring a person embracing the world. 
World Cancer Day is an initiative of the Union for International Cancer Control (UICC), the largest and oldest international cancer organisation dedicated to taking the lead in convening, capacity building and advocacy initiatives that unite the cancer community to reduce the global cancer burden, promote greater equity, and integrate cancer control into the world health and development agenda.
World Cancer Day was born on the 4 February 2000 at the World Summit Against Cancer for the New Millennium in Paris. The Paris Charter aims to promote research, prevent cancer, improve patient services, raise awareness and mobilize the global community to make progress against cancer, and includes the adoption of World Cancer Day.
---
The World Cancer Logo
One of the driving aspects of the World Cancer Day logo is its utility and usability in many different contexts and by lots of people – in fact, thousands and thousands of people from all over the world. 
This was the previous World Cancer Day logo.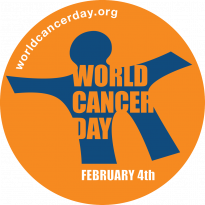 Take a look: there are some solid design elements that work well here. For instance, the round badge and the symbol of the person representing every individual. The brand colours of orange and blue had started to achieve a ubiquitous association with the day.
But, as more supporters use the World Cancer Day campaign materials, including the logo, it made sense to take a look at how the logo was being applied and what – if any – challenges the logo posed for supporters.
TYT Newsroom