The leader of the chamber highlighted the results achieved in 2021 in attention to affiliates
(MERIDA, YUC. – CANACO).- Businessmen of the National Chamber of Commerce, Services and Tourism (Canaco Servytur) of Mérida reelected Iván Rodríguez Gasque this Thursday, January 27th, as their president, for the period 2022, in which he will be accompanied by a new Council made up of 50 percent women and 50 percent men.
At the Annual Meeting 2022, which was attended by the presidents of the six delegations, Tizimin, Valladolid, Peto, Tekax, Ticul and Motul, Yucatan municipalities, the directors expressed their support for the work done during the year 2021 to the front of the Canaco Merida and they gave their confidence to Ivan Rodriguez to continue as their leader for one year.
Giving his report on his first term at the head of Canaco Mérida, Iván Rodríguez Gasque, highlighted the results of the actions and programs carried out in 2021 in attention to the affiliates of this business organization, as well as for the development and strengthening of the trade, services and tourism sectors.
He recognized the contribution of time and who made up the 2021 Executive Committee as well as directors who proposed actions were undertaken to address the priorities of companies and affiliated businesses.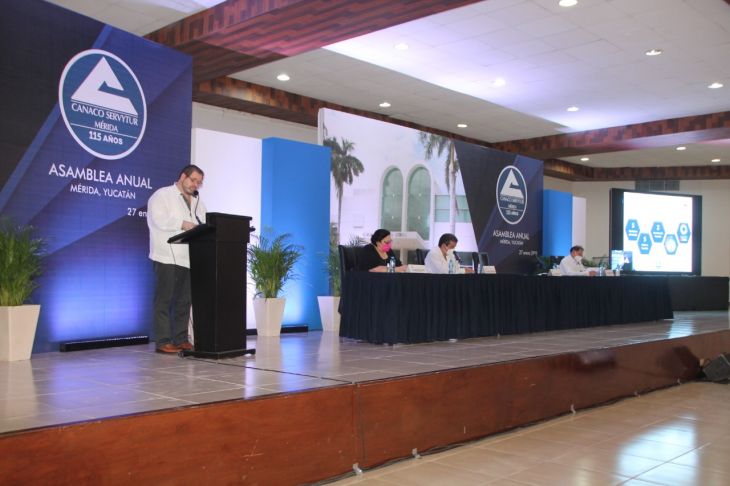 Before the members of Canacome, Rodríguez Gasque presented his Work Plan for the period 2022, which is based on innovative strategies and continuity to the programs and activities that are a benchmark for Canaco Mérida.
In this sense, he specified that the Work Plan has eight axes: Training, Institutional Communication, Civil Society, Tourism, Trade Promotion, Institutional Services, Delegations and Representativeness.
Before the members who gathered at the Canacome headquarters, Iván Rodríguez explained the scope of each of the axes, and highlighted the objectives that are well defined and aimed at increasing the competitiveness and productivity of the associated companies.
In his message, he pointed out that the results and goals set will be achieved with the coordinated and responsible work of each one of those who make up the Steering Committee and the Council.
And he endorsed his commitment to serve the members of Canaco Mérida with integrity and values, whom he thanked for the new opportunity to continue as its president for another year.
This new exercise at the head of Canaco Mérida, he stressed, demands the business unit to face with strength the challenges that arise.
"We have to stay united, firm and without diverting our purposes, because the pandemic is still going on and we hold on because we are a solid pillar of the economy and society," he noted.
Without business development there is no economic development, which is why we have to remain united, move forward with optimism and confidence to continue being the benchmark Chamber that we are today.
TYT Newsroom