Merida, Yucatan, (December 20, 2021).- According to the Ranking of Combat to Poverty, The Authentic Pulse of Mexico, in its 21 Ranking of Governors of Mexico, Mauricio Vila Dosal, head of the Executive of Yucatan, appears in first place nationally, with 61 percent approval; He are followed by his counterparts from Puebla, Miguel Barbosa Huerta; and from Guanajuato, Diego Sinhué Rodríquez Vallejo, both with 51 percent.
The survey, based on the citizen evaluation with the question: How efficient are the actions of your governor to combat and end poverty in the state? The governor of Quintana Roo, Carlos Joaquín González, took the seventh place and approval of 47 percent, while Layda Sansores San Román, from Campeche, ranked 28th with approval of 27 percent.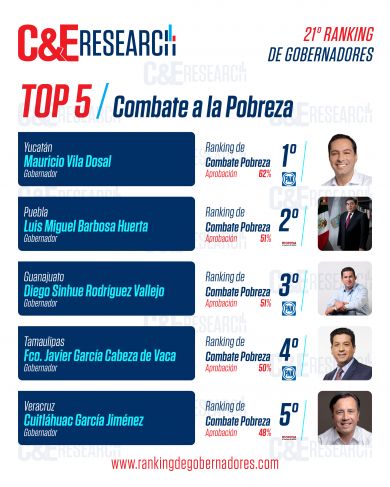 The last position, with only four percent approval, went to the governor of Hidalgo, Omar Fayad Meneses. 
The data collection was through 19,200 telephone calls (600 for each state of the Mexican Republic), from November 19 to 28, 2021.
In terms of popularity, Mauricio Vila is also in first place with 68 percent approval; Carlos Joaquín in fourth place with 64 percent of votes in his favor, while Layda Sansores is in 28th place with 32 percent approval.
The survey, which you can consult on this site , rates other aspects such as Performance, Honesty, Security, Corruption, Happiness, among others.
Comments
comments