The State faces future water risk
Mérida, Yucatán, (April 16, 2021).- Yucatán is at risk of running out of water in the medium term, according to the Water Risk Atlas "Aqueduct", an existing tool on the internet, which maps water risks around the world.
The World Resources Institute (WRI) which is in charge of the data that " Aqueduct " throws, declared that "Zero Day" is very close and is called that when a place is going to run out of water in the near future.
According to data from the WRI Aqueduct program, 17 countries have an extremely high index of water stress, led by Qatar, which has an average of 4.7.
In the list of 189 countries, Mexico ranks 24th with an average of 3.86 water stress; It is the second with the highest index in Latin America, after Chile, which ranks 18th, with an index of 3.98.
The WRI notes in a statement that in the 17 countries facing extremely high water stress, in average year agriculture, industry and municipalities consume 80 percent of available surface and groundwater.
How is Yucatán?
In the country, Yucatán ranks 25th out of 32 states, with a medium-high risk of water stress.
While 15 entities have an extremely high water stress index; eight have a tall one; two have a medium-high average (among these Yucatán), five have a low average index and only two generate a low water hydric stress.
Baja California Sur tops the list of states with the highest water stress, followed by Guanajuato and in third place is Mexico City.
Among the states at risk with large cities are the State of Mexico (fifth place), Querétaro (sixth place), Hidalgo (seventh place); Nuevo León (twelfth place) and Jalisco (fifteenth place).
The states with the highest index of water stress are:
Baja California Sur: 5
Guanajuato: 4.94
Mexico City: 4.90
Aguascalientes: 4.81
State of Mexico: 4.76
Querétaro: 4.71
Hidalgo: 4.63
Chihuahua: 4.63
Zacatecas: 4.63
Sonora: 4.60
Sinaloa: 4.47
New Leon: 4.44
Morelos: 4.33
Jalisco: 4.22
Tamaulipas: 4.11
Colima: 3.74
Tlaxcala: 3.36
Baja California: 3.28
Michoacan: 3.28
San Luis Potosí: 3.23
Coahuila: 3.15
Puebla: 3.05
Durango: 3.02
Nayarit: 2.93
Yucatan : 2.49
Quintana Roo: 1.95
Warrior: 1.82
Veracruz: 1.65
Campeche: 1.47
Oaxaca: 1.22
Chiapas: 0.84
Tabasco: 0.08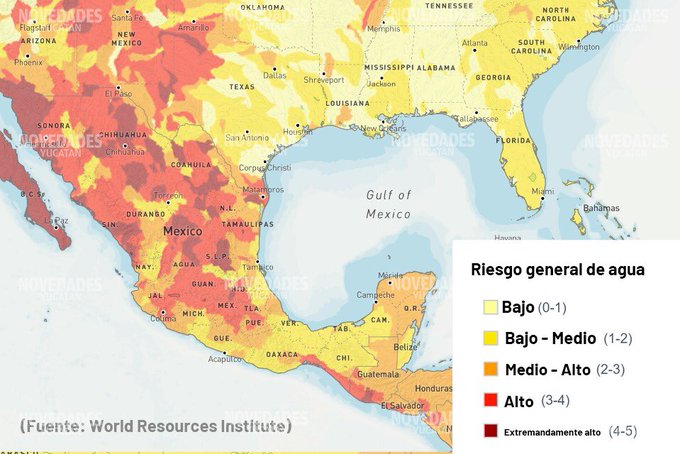 Source: Sipse