Picture this: you've gone to meet your wife after her facial and pedicure at a local boutique hotel.  Leaving the bright sunshine outside, you open the thick, wooden doors and are welcomed into the cloistered anteroom.  Around you is subdued lighting, ornate furniture, and a smiling, perfectly groomed young female receptionist with Old World mannerisms and a sophisticated hairdo.
Passing into the dining area, your feet and joints appreciate the thick carpeting, while your eyes feast on the rich colors and sumptuous furniture.  Above, there are chandeliers.  Two elegantly dressed and made up women wearing scarves and speaking in civilized tones are quietly conversing over wine in crystal glasses and what remains of their equally elegant meals on fine dishware.  Nearby, a formally-dressed waiter politely delivers their check and leaves the area.  You become aware of the gently playing classical music.
Where are you?  Have you landed in a tony upper-end US or Canadian city or suburb?  Gathering your wits to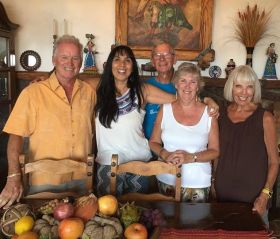 focus on the practical, are you suddenly nervous and a bit indignant about how much you're going to have to shell out for all this extravagance, thereby ruining the entire experience?
Not at all.  Relax.  In this case, you're in the little village of 
Ajijic
, in the Mexican Highlands, on Lake Chapala, where the two women you saw are now paying the waiter the equivalent of about $6 for each of their meals and $2 for each glass of wine.  Smiling and after leaving an appropriate tip, they return to their conversation, in no particular hurry to leave their comfortable surroundings.
Comments
comments