According to Bloomberg, it seems like Mexicans know how to take a hint. More and more tourists, feeling unwanted in the U.S., are opting to go elsewhere instead.
Airports in Miami, Orlando, San Antonio and Denver clocked fewer travelers coming from Mexico City and Guadalajara in the first two months of 2017, while Montreal, Toronto and Vancouver saw a surge in traffic from Mexico's capital.
It's not hard to see why Mexicans may be choosing to alter their travel plans, what with all those Twitter jabs by U.S. President Donald Trump, his plans for a wall between the two nations and uncertainty over travel restrictions. Canadian Prime Minister Justin Trudeau, on the other hand, announced plans last June to lift a visa requirement for Mexicans that allows them to enter the country with only a passport.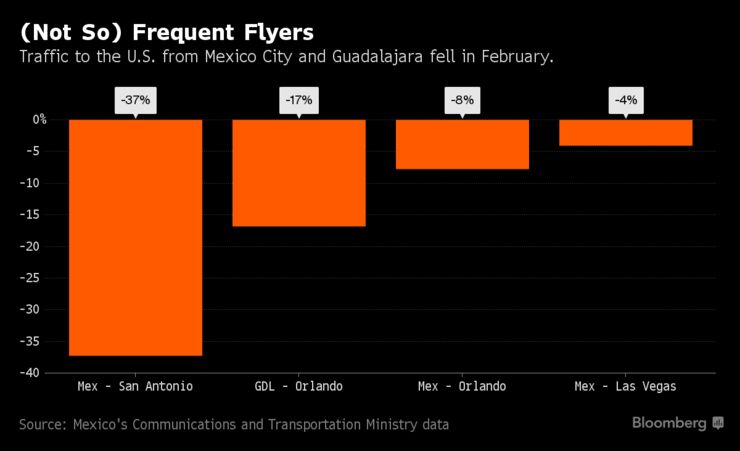 "It's the uncertainty more than anything," said Duncan Wood, director of the Mexico Institute at the Woodrow Wilson International Center for Scholars in Washington. "A lot of people have canceled their trips to the U.S. because they don't understand the new rules."
Airline Impact
That's been bad news for airlines focusing on U.S.-Mexico routes. Mexico's two largest carriers, Grupo Aeromexico SAB and Controladora Vuela Cia. de Aviacion SAB, which operates as Volaris, recently cut their growth estimates on softer-than-expected demand.
Volaris Chief Executive Officer Enrique Beltranena blamed "the Trump phenomenon" and its effect on international travel as the main reason the carrier pared its second-quarter forecast for capacity growth to as much as 18 percent from as much as 23 percent — the first downward revision since 2014 for the fast-expanding discounter.
The Trump administration has ordered customs officials to enhance visa screening on visitors, including those from Mexico. And while Mexicans aren't directly affected by a proposed ban on travel from some countries or restrictions on electronic devices on flights from some airports, the measures add to the confusion, said Wood.
A decline in tourism from Mexico could hurt American businesses that cater to travelers, including hotels and destinations like theme parks. Mexican visitors spent $19.7 billion in the U.S. in 2015, trailing only Chinese and Canadian travelers, according to the U.S. Commerce Department.
U.S.-bound passengers from Mexico City to San Antonio declined 34 percent in January and 37 percent in February, according to data from Mexico's Communications and Transportation Ministry. Meanwhile, traffic from Mexico City to Montreal, Toronto and Vancouver surged, with gains of as much as 67 percent in January and 46 percent the following month, depending on the destination.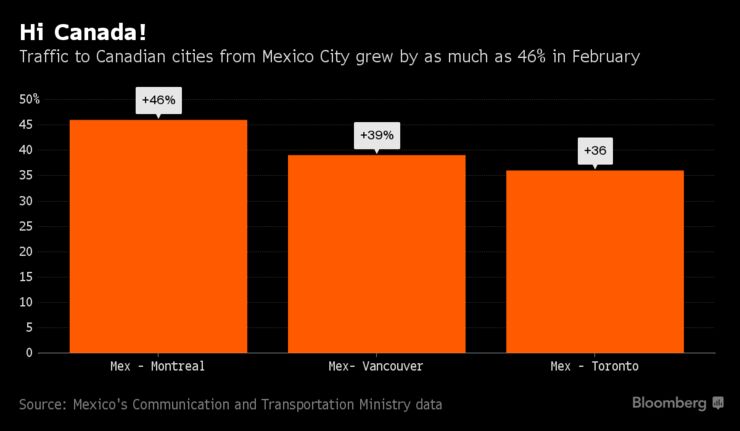 Aeromexico, with a wider route network than Volaris, can partially offset the decline with its stream of steady business travel. Volaris, which relies heavily on Mexican leisure passengers and customers visiting friends and family in the U.S., started seeing some improvement in March, analyst Duane Pfennigwerth at Evercore ISI wrote in a note Thursday.
'Headline Risk'
"It appears demand trends have recovered since February when U.S. travel policy uncertainty was very high," he said. "Mexico domestic leisure trends are strong but northbound leisure travel to the U.S. has not fully recovered."
The peso's 10 percent gain this year and a more moderate tone from the U.S. could help Volaris further, Pfennigwerth said. On the other hand, he said, "headline risk remains and the new administration has thus far given leisure travelers from the rest of the world reasons to delay or reconsider travel to the United States."
That's certainly the case for Mario Hinojosa, a businessman in Monterrey, Mexico.
Hinojosa said he can understand why folks may not want to visit the U.S. after Trump took office. His daughter had been considering a study-abroad program in either New York or Washington when they started noticing a change in sentiment toward Latinos.
"I said to her: no. Not this year," he recalled. "I will pay for you to go to Italy for the summer if you want, but not the United States."
Source: https://www.bloomberg.com/