Auto-theft rates in Mexico are rising at the fastest pace ever, and authorities are getting worse at tracking down the stolen cars, Bloomberg News reports.
In March, the number of auto thefts rose 21 percent from the same month a year earlier, according to numbers from the car insurance association known as Amis. Meanwhile, the recovery rate — the percentage of stolen cars that police were able to recover — dropped to its lowest since at least 2005.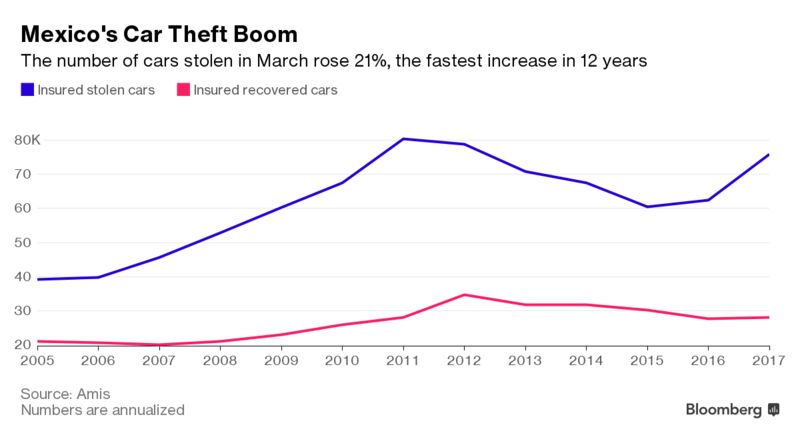 This is an ominous trend for the country's car insurers, many of which are already paying out more in claims than they're collecting in premiums, Moody's Investors Service said in a report Tuesday. It's also part of an uptick in lawlessness across Mexico, which saw a 20 percent jump in violent crimes last year, according to a study released March 30 by the University of San Diego. A survey also shows Mexicans' perception of insecurity in their municipality and neighborhood is at the highest since at least 2011.
The car-theft trend "will continue throughout the second quarter which will, in turn, have an impact on first-half returns," Francisco Uriostegui, an analyst at Moody's who helped write the report, said in an interview. "In the end, it's the customer that will have to pay more, for a higher premium and it'll be due to a drop in the recovery rate for these vehicles."
Qualitas Controladora SAB and Grupo Nacional Provincial SAB are the two biggest auto insurers in Mexico, Uriostegui said, while units of Grupo Financiero Banorte and Grupo Financiero Inbursa are also among the top 10.
Source: bloomberg.com