Mexico's peso jumped as much as 1.1 percent after an adviser to Donald Trump signaled the new administration may be less anti-trade than investors originally envisaged, Bloomberg News reported.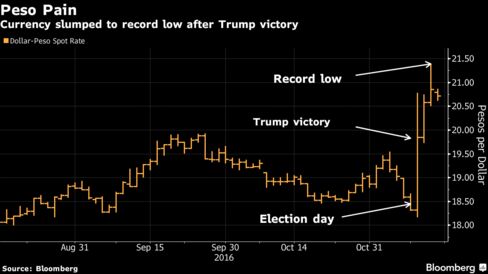 "Mr. Trump believes in free-but-fair trade," Scaramucci wrote. "Tariffs are unnecessary if agreements like the World Trade Organization and Nafta are adequately enforced."
 The peso gained 0.5 percent to 20.7508 per dollar as of 6:01 a.m. in London, after strengthening to 20.6136. It had tumbled 12 percent during the previous three sessions, the biggest decline among any currency worldwide, and touched a record-low 21.3897 following Trump's surprise win in the Nov. 8 election.
Trump had said in an interview with CBS's "60 Minutes" aired on the weekend that parts of a proposed wall with Mexico could be a fence instead. The U.S. accounts for 80 percent of the Central American nation's exports.
"Comments from the Trump camp suggesting tariffs are not a policy yet set in stone had the effect of lessening some of the downward pressure on the peso," said Ray Attrill, the global head of foreign exchange at National Australia Bank Ltd. in Sydney. "But those comments and talk of fences instead of walls are far too fuzzy at this stage to prompt a sea-change in sentiment towards the peso."
Loomis Sayles & Co. Vice Chairman Dan Fuss said Friday investors are overestimating the risks a Trump presidency poses to Mexican trade and investment.
"People have gotten very bearish because they expect the situation between the Mexican government and the U.S. government to deteriorate badly," Fuss said in an interview in Tokyo. "I don't agree with that. There's not going to be any wall."
Societe Generale SA takes the opposite view.
"Concerns over Nafta will weigh on the peso just as Brexit has weighed on the pound," said Jason Daw, the bank's Singapore-based head of emerging-market currency strategy. "Our preference is to buy USD-MXN on dips, targeting a move to 23."
Source: bloomberg.com