Despite Donald Trump's habitual barbs targeting trade deals and Mexico, business leaders south of the border have largely refrained from talking about the U.S. election. Their lawyers and advisers say it's time to speak up.
The race, the Republican candidate and his Democratic rival, Hillary Clinton, are increasingly popping up as key risk factors in Mexican bond and share-sale prospectuses, Bloomberg News reports. They're appearing alongside run-of-the-mill warnings that have long been staples in such documents, like recession and an unforeseen drop in demand. The disclosures to investors, which companies are legally required to make, highlight concern that this quirky and contentious election will upend a global economy built on two decades of free-trade deals.
"I don't recall ever having risk factors that called out individual U.S. major party figures," said Jorge Juantorena, a partner at law firm Cleary Gottlieb Steen & Hamilton who advises on securities sales and other corporate actions in Mexico. "It definitely says something about the situation right now."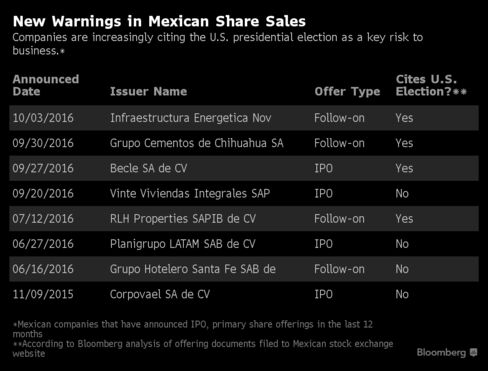 ---
---
Since July, at least five Mexican companies with plans to sell bonds or shares have mentioned the outcome of the Nov. 8 election as a risk factor that could throw their business models for a loop. RLH Properties SAP, the operator of the Four Seasons Hotel in Mexico City that raised 1.34 billion-pesos ($71 million) in an add-on share sale, warned that the vote could have "negative impacts" on U.S.-Mexico relations. Cement producer Grupo Cementos de Chihuaha said the race injects "uncertainty" about future cross-border trade, and tequila maker Jose Cuervo said the victor of the elections and possible overhaul of the North American Free Trade Agreement could have a "significant" impact on its activities.
To read complete article click here.
Source: bloomberg.com
Comments
comments