In a press conference following a river tour of the Rio Grande Valley, U.S. Sen. John Cornyn of Texas told reporters, "What we need is a virtual border."
Texas' senior U.S. Senator says that building a wall on the U.S.-Mexico border is not the solution to border security. He said during a tour of the border on Tuesday March 29, "It's more than just a physical obstacle."
As reported by the local Fox News affiliate in the Valley, Republican Cornyn was touring the Pharr-Reynosa International Bridge near the Texas-Mexico border.
Sen. Bill Cassidy (R-LA) 
was also with him.
When he was on the border near Anzalduas Park near Mission, Texas, the Texas senator was asked about a border wall, an issue which has been at the center of the 2016 GOP presidential primary election.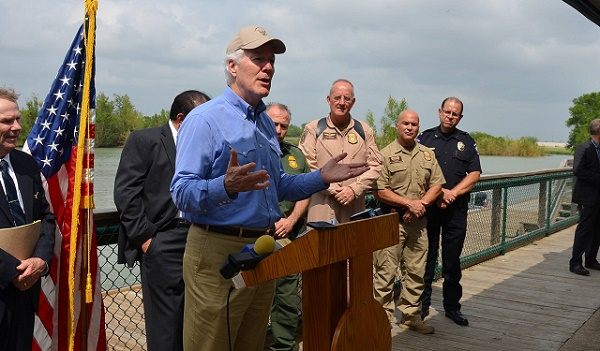 The Republican was reported by Fox 2 to have answered, "It's more than just a physical obstacle. It's people. It's the boots on the ground and it's the technology."
KURV 710 in the Valley also reported that Senator Cornyn said that in addition to technology and personnel, an "orderly immigration system" is the best answer to the problems along the border.
"When people talk about the border they often forget the advantages of our proximity to Mexico," Cornyn told the media as reported by The Monitor. "Six million jobs in the United States depend on bi-national trade between the U.S. and Mexico."
Senator Cassidy said that a strong border is dependent on the men and women who are working on the front lines, reported Fox 2. "Good people working on behalf of our country, sometimes on behalf of those who are not of our country but we are showing our country's values as we work," the Louisiana senator said. "Never forgetting that we have to secure our borders. Never forgetting that there are laws to be followed, but doing it the American way, and an American way that makes us proud."
Cornyn was also accompanied on the tour by Mission, Texas Mayor Norberto "Beto" Salinas, McAllen Mayor Jim Darling, Hidalgo Mayor Martin Cepeda, and Chief Patrol Agent Manuel Padilla of the U.S. Customs and Border Protection agency, according to The Monitor.
"Sen. Cornyn is really a true friend of the Valley who understands our uniqueness and understands that the river behind us is not just the border. It's the drinking water for almost 3.2 million people, its irrigation water for tens of thousands of acres of agriculture on both sides of the border. He understands that a safe border is not a closed border," McAllen Mayor Jim Darling told the gathered reporters.
After touring the river area, the tour continued at the Pharr-Reynosa International Bridge to learn about the impact of international trade on the Rio Grande Valley area, Fox 2 reported.
Source: breitbart.com
Comments
comments