Bloomberg's Adam Williams writes that the timing couldn't have been worse for the end of the 76-year Petroleos Mexicanos monopoly, which was supposed to unleash an investment flood with companies rushing to develop massive oil reserves. It was going to be historic, and then came the rout.
"It's tragic that Mexico waited so long to open the sector and that when an administration finally passed a meaningful energy reform, the bottom just falls out of oil prices," said Tim Samples, a Mexican-energy analyst at the University of Georgia in Athens. "The parade did not last very long."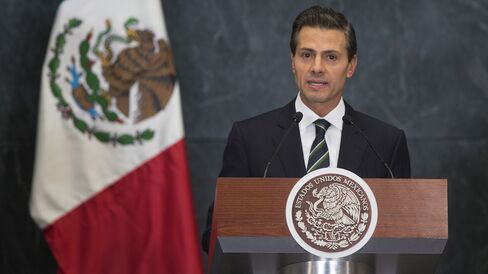 The sweeping energy-sector overhaul was designed to attract major outside investment for the first time since Mexico booted foreign oil and gas companies in 1938. But not as many new players as expected have come in. There's concern low oil prices may hurt the appetite for deep-water leases to be auctioned later this year.
Peña Nieto, who will give the keynote speech at the CERAWeek conference in Houston Monday, has said his administration has no intention of reversing course, even if prices, which have plummeted 70 percent since June 2014, don't recover. "We are resolved and determined," he said at last month's World Economic Forum in Davos, Switzerland.
Two weeks ago, the president shook things up again: He replaced Pemex Chief Executive Officer Emilio Lozoya with Jose Antonio Gonzalez Anaya, tasking the Harvard-educated economist with rescuing the nation's largest company. Pemex employs more than 145,000 people and accounts for around one-fifth of government revenue — and is in it's worst financial shape in history. It owes a record $7 billion to oil-service providers and faces historic levels of debt that will soon exceed $100 billion. Crude output has been slipping for 11 years.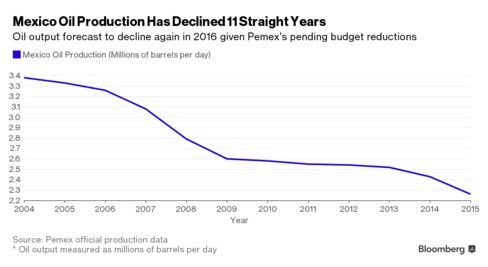 But the potential is so great — especially in the deep waters of the Gulf of Mexico — that the Peña Nieto administration is confident the overhaul will be a success in the long run. The world's oil giants have been eyeing Mexican reserves, estimated to be more than 13 billion barrels, for decades. The country just has to be patient, said Alejandra Leon, an analyst with IHS Energy in Mexico City. "The fruits of these large-scale changes aren't going to be seen for 15 to 20 years."
Pemex's struggles have overshadowed the larger energy-business overhaul, which also ended monopolies in electricity production and transmission. Companies including BlackRock Inc., Kinder Morgan Inc. and Energy Transfer Partners LP have contributed to more than $26 billion of estimated infrastructure investment to improve power generation and distribution.
And the opening of the oil-and-gas sector hasn't been a disaster. In three bidding-rounds last year, the country sold 30 of the 44 areas auctioned, including 100 percent of the onshore fields on offer, to companies including Eni SpA and BP Plc. Pena Nieto said on his official Twitter account in December that the onshore success demonstrated "confidence in Mexico and the future of its energy industry."
Now, Chevron Corp., Royal Dutch Shell PLC, Statoil ASA and Total SA have started the process to qualify to bid for 10 deep-water fields in the Gulf of Mexico. Those are the crown jewels, and have gone undeveloped because of Pemex's lack of capital and technology. Mexico hopes foreign companies will spend around $4.4 billion on each field. It's "one of the principal objectives of the energy reform," according to Energy Minister Pedro Joaquin Coldwell.
Samples, the Mexican-energy analyst, said the impact of crude's slide has dimmed the accomplishments since denationalization. "There have definitely been some success stories," he said. "Oil prices have really been the ultimate wet blanket for this whole reform. It's incomprehensible how bad the timing has been for Mexico."
Source: bloomberg.com
Comments
comments