The peso is leading emerging-market gains since policy makers unexpectedly raised interest rates, unveiled budget cuts and announced a new currency-intervention policy Feb. 17. The gain pushed returns on Mexico's peso-denominated notes to 3.2 percent in dollar terms through Thursday Feb. 18, compared with a 0.1 percent average for developing nations' debt.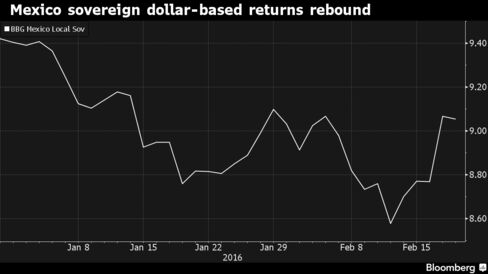 Despite the currency's rebound from a record low in the wake of the measures, Barclays's Marco Oviedo predicts the rally will be short-lived as higher interest rates hurt a sluggish Mexican economy roiled by plunging oil prices. Morgan Stanley analysts led by Luis Arcentales say the recent moves "won't change the direction" of the peso, which is still the worst-performing major currency this year after falling 6 percent through Thursday.
The rate increase "seems to be a rushed measure," Oviedo said from Mexico City. "Banco de Mexico is entering into a very complicated dynamic, because if the peso continues depreciating, the market could price in more rate increases. It's not clear that raising rates would have a positive impact on the exchange rate. For the economy, it's clear that it wouldn't."
Ricardo Medina, a spokesman for the central bank, declined to comment on the impact of the measures. The peso slipped 0.1 percent Friday Feb. 19 to 18.3141 per dollar at 8:55 a.m. New York time, leaving it 3.3 percent stronger for the week.
In a coordinated announcement Wednesday, central bank Governor Agustin Carstens and Finance Minister Luis Videgaray said borrowing costs will increase 0.5 percentage point to 3.75 percent as they cited the risk that the currency's depreciation would fuel inflation. Banco de Mexico also said it would replace a daily dollar-auction program with a plan to sell greenbacks directly to banks whenever needed to support the currency.
Source: bloomberg.com