Change is happening in Mexico's telecommunications industry, though not fast enough for AT&T Inc., Bloomberg reports.
Laws introduced almost two years ago to give wireless customers more choices have done little to dent the market share of dominant provider America Movil SAB, controlled by billionaire Carlos Slim, according to Thaddeus Arroyo, AT&T's most senior executive in Mexico.
"Two years into regulatory reform the preponderant agent has more customers than when they started," Arroyo said in an interview at AT&T's offices in the Santa Fe section of Mexico City. "The real question — and it's for the regulator to determine — what additional conditions are needed to drive change faster?"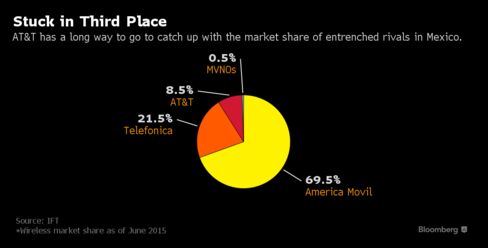 AT&T is seeking to frame the debate just weeks before the government reviews whether the laws backed by President Enrique Pena Nieto in 2014 have met their goals to increase competition. And while costs to consumers have come down in the wireless industry, America Movil still has about 70 percent of all mobile phone contracts in Mexico and 62 percent of fixed lines, according to datafrom the federal telecommunications regulator known as IFT. While AT&T is the second-biggest wireless carrier in the larger U.S. market, it's a distant third in Mexico, where it has spent $4.4 billion on acquisitions since 2014 and has pledged to invest $3 billion more in its network.
Too Soon
The IFT plans to review and analyze the effect of dominance rules on America Movil in March, two years after they were originally set, with the option to change or add new measures. AT&T will send the regulator its opinion on the matter, Arroyo said. An IFT press official didn't respond to a request for comment.
It may be too soon to get the IFT to make significant changes, Credit Suisse analyst Daniel Federle said in a note to clients in December. The regulator "will only fine tune the measures previously established," he said. Any substantial revisions — either easing or tightening the rules about dominance — would come later, he wrote.
As part of the original measures, America Movil, which is controlled by billionaire Carlos Slim, had to reduce market share to below 50 percent or face penalties. Since it hasn't met that provision, the company has been forced to eliminate the fees it charged competitors for incoming calls to its network. Rivals, such as Telefonica SA and AT&T, can still bill America Movil when its users call their customers.
 "Competition does not exist as a function of market share," said Alejandro Cantu, America Movil's general counsel. "The reform sought for users to have options to be with the operator that gave them the best service, and they're making that choice."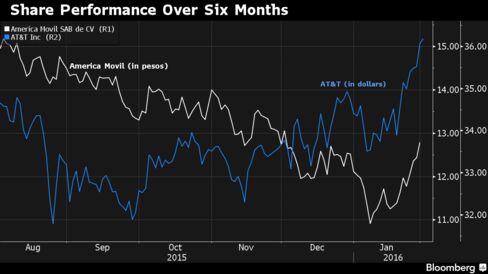 America Movil had almost 73 million wireless subscribers in its home country at the end of October, more than half a million more than in 2013, when Mexico introduced the plan to bolster competition.
In the fourth quarter, AT&T's wireless base in Mexico climbed 7.3 percent, or by 593,000 subscribers, to 8.7 millionfrom the third quarter, the company reported last week. Average prices for consumer telecommunications services in the country fell 14.5 percent last year, largely because of the new rules, which also eliminated domestic long-distance fees that carriers charged users.
Past Allies
"Even with our arrival bringing competition and beginning the ultimate transformation of the market, the share is still disproportionately unbalanced," Arroyo said. "Honestly, it will take years for the market to have a balance."
Now fierce rivals, the two mobile giants were longtime allies. Dallas-based AT&T, led by Chief Executive Officer Randall Stephenson, had held a stake in America Movil since Slim acquired it in a government privatization sale in 1990. AT&T sold its 8.3 percent holding in 2014. AT&T, as a result of its $48.5 billion acquisition of DirecTV, also has a partnership with Grupo Televisa SAB in satellite-TV company Sky Mexico.
Arroyo, a 20-year veteran of AT&T who served as president of its technology development unit, was named CEO of the Mexican operations in January 2015. He has held other senior positions including chief information officer at AT&T and AT&T Mobility.
While he pushes for regulatory change in Mexico, Arroyo is working to set AT&T apart from competitors in the country by focusing on making its bills more transparent.
"We at this point enjoy being a differentiator in the market" with monthly statements "far clearer and easier to understand," he said.
By Patricia Laya for Bloomberg News
Source: www.bloomberg.com