Singer David Bowie, one of the most influential musicians of his era, has died of cancer at the age of 69.
A statement was issued on his social media accounts, saying he "died peacefully, surrounded by his family" after an "18-month battle with cancer".
Tributes have been paid from around the world to the "extraordinary artist" whose last album was released days ago.
Sir Paul McCartney described him as a "great star" who "played a very strong part in British musical history".
Bowie's son Duncan Jones, who directed Bafta-winning film Moon, wrote on Twitter: "Very sorry and sad to say it's true. I'll be offline for a while. Love to all."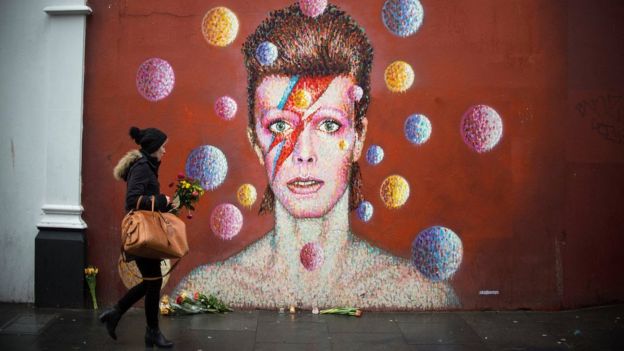 The artist's hits include Let's Dance, Changes, Space Oddity, Starman, Modern Love, Heroes, Under Pressure, Rebel Rebel and Life on Mars.
He was also well known for creating his flamboyant alter ego Ziggy Stardust.
The singer, who had been living in New York in recent years, only released his latest album Blackstar on his birthday on Friday.
The album, which includes just seven songs, has been well received by critics and was intended as a "parting gift" to the world, according to long-time friend and producer Tony Visconti.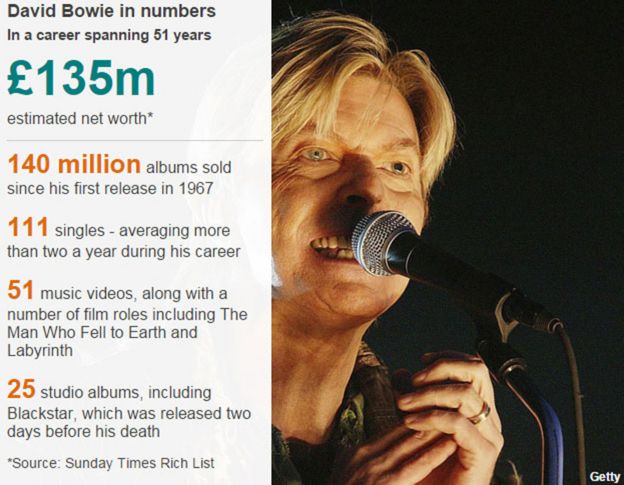 Visconti wrote on Facebook: "His death was no different from his life – a work of art.
"He made Blackstar for us, his parting gift.
"I knew for a year this was the way it would be. I wasn't, however, prepared for it. He was an extraordinary man, full of love and life. He will always be with us."
Blackstar is on course to be number one this Friday, according to the Official Charts Company, with combined sales of more than 43,000.
Sir Paul McCartney said he would "always remember the great laughs" the pair shared, saying in a statement: "David was a great star and I treasure the moments we had together.
"His music played a very strong part in British musical history and I'm proud to think of the huge influence he has had on people all around the world."
The Rolling Stones paid tribute to "an extraordinary artist" and a "true original".
Brian May, guitarist with Queen – with whom Bowie collaborated on Under Pressure – said: "He was a fearsome talent, and the loss to music and culture from his passing is inestimable."
Friend and collaborator Iggy Pop wrote on Twitter: "David's friendship was the light of my life. I never met such a brilliant person. He was the best there is."
Madonna said she was "devastated" and that Bowie had "changed her life". She wrote on Twitter: "Talented. Unique. Genius. Game Changer. The Man who Fell to Earth. Your Spirit Lives on Forever!"
Rapper Kanye West said: "David Bowie was one of my most important inspirations, so fearless, so creative, he gave us magic for a lifetime."
Comedian and actor Ricky Gervais, who convinced Bowie to star as himself and ridicule Gervais in an episode of 2006 sitcom Extras, simply wrote: "I just lost a hero. RIP David Bowie."
Scottish musician Midge Ure, who helped organised the Live Aid concert in 1985 – at which Bowie performed – told ITV's Good Morning Britain: "He wasn't just a brilliant songwriter and an amazing creator, he excelled at everything."
---
Will Gompertz, BBC Arts editor
David Bowie was the Picasso of pop. He was an innovative, visionary, restless artist: the ultimate ever-changing postmodernist.
Along with the Beatles, Stones and Elvis Presley, Bowie defined what pop music could and should be. He brought art to the pop party, infusing his music and performances with the avant-garde ideas of Merce Cunningham, John Cage and Andy Warhol.
He turned pop in a new direction in 1972 with the introduction of his alter ego Ziggy Stardust. Glam rock was the starting point, but Ziggy was much more than an eyeliner-wearing maverick: he was a truly theatrical character that at once harked backed to pre-War European theatre while anticipating 1980s androgyny and today's discussions around a transgender spectrum.
He was a great singer, songwriter, performer, actor, producer and collaborator. But beyond all that, at the very heart of the matter, David Bowie was quite simply – quite extraordinarily – cool.
---
Chris Hadfield, the former commander of the International Space Station who recorded a video of a version of Space Oddity during his final mission, said his "brilliance inspired us all".
Prime Minister David Cameron said: "I grew up listening to and watching the pop genius David Bowie. He was a master of re-invention, who kept getting it right. A huge loss."
Labour leader Jeremy Corbyn told the BBC Radio 4 Today programme that Bowie was a "great musician, great entertainer", saying he felt "very, very sad" about his death.
"Life On Mars comes flowing back into my mind," he said. "Wonderful song, wonderful guy."
The Vatican's chief spokesman on cultural matters, Cardinal Gianfranco Ravasi,tweeted lyrics to Space Oddity in tribute to Bowie while Archbishop of Canterbury Justin Welby said he was "very very saddened to hear of his death".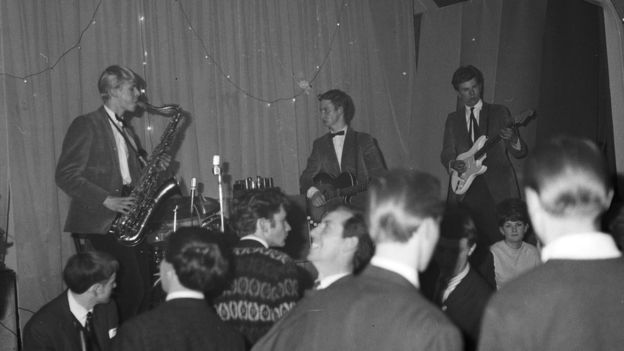 Bowie was born David Jones in Brixton, south London, on 8 January in 1947. He changed his name in 1966 after The Monkees' Davy Jones achieved stardom.
His career spanned six decades.
He was in several bands before he signed with Mercury Records, which released his album Space Oddity in 1969, with the title track becoming his first UK number one
His breakthrough came with 1972's The Rise and Fall of Ziggy Stardust and the Spiders From Mars.
---
Mark Savage, BBC Music reporter
Today's news is all the more shocking because David Bowie had recently emerged from suspended animation – revitalised and reinvigorated.
His two last albums, The Next Day and Blackstar, ranked with his best, the former celebrating his past, the latter casting forward to the future. The fact he won't be there is heartbreaking.
But then Bowie's entire career has been a vanishing act. The son of a waitress and a nightclub owner, David Jones became David Bowie, who became Ziggy Stardust, who became Aladdin Sane, who became the Thin White Duke. All of them were fictitious. All of them became iconic.
In the 1970s, he was restless, flitting between musical styles and personas, producing Lou Reed and The Stooges, and taking up painting in Berlin. His every move sparked impersonators and inspired musical sub-genres. He was the first post-modern pop star.
He struggled to remain relevant in the 1980s and 90s, but continued to push boundaries with the industrial rock of Outside and the drum and bass influenced Earthling. An enforced hiatus, prompted by an emergency angioplasty, took him out of the spotlight for most of the 2000s before that celebrated, unexpected comeback on his 66th birthday.
That late period of creativity may now be reassessed as the work of a musician who knew his time was running out. But it remains a fitting legacy for a man who subverted and reinvented pop time and time again.
---
He did a three-month stint as The Elephant Man on Broadway in the 1980s, with other roles that decade including Labyrinth, Cat People, The Last Temptation of Christ and The Hunger.
The late 1980s were dominated by Bowie's involvement with his new band, a postmodernist heavy metal outfit, Tin Machine.
The 1990s saw David Bowie flirting with drum-and-bass on the Earthling album, while his 2002 album Heathen saw a long-awaited return to form for the singer.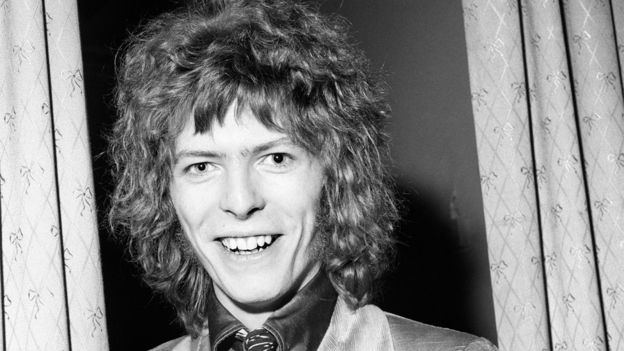 He had headlined Glastonbury in 2000 – his first appearance there since 1971.
Festival founder Michael Eavis told the BBC: "He's one of the three greatest in the world, ever – Frank Sinatra, Elvis Presley and David Bowie. There's no one else even close."
Bowie's last live performance was at a New York charity concert in 2006.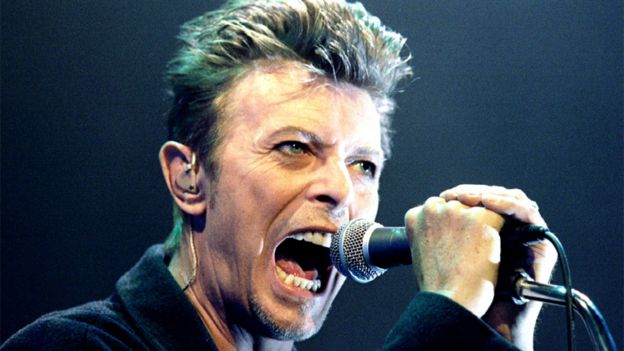 But after a decade without a studio album he released The Next Day in 2013, surprising fans who thought he had retired. It became his first UK number one for 20 years.
He co-wrote Lazarus, a musical featuring his songs and inspired by his role in The Man Who Fell to Earth, which opened in New York last month.
And a truncated version of Blackstar, the title track of his new album, appears as the theme music for the TV show The Last Panthers.
A retrospective of Bowie's life, originally staged at London's Victoria & Albert Museum, is being shown at the Groninger Museum in the Netherlands, which was opening its door specially on Monday to allow fans to remember the star.
Source: BBC
Comments
comments