According to the geo-mexico.com news website, the gradual devaluation of Mexico's Magic Towns (Pueblos Mágicos) program continues with the recent addition of 28 new Magic Towns to the list, bringing the total number to 111.

At the Second Annual Fair of Magic Towns, held in Puebla recently, Federal Tourism Secretary Enrique de la Madrid announced that 28 of the 180 applicant towns had been accepted into the promotional program.
The designation is supposedly reserved for "cities, towns and villages with special symbolic features, legends and history, and opportunities in tourism", but several existing Magic Towns have very little indeed to offer tourists, and little cultural or historical significance. The same can be said for several of the latest group of 28 Magic Towns.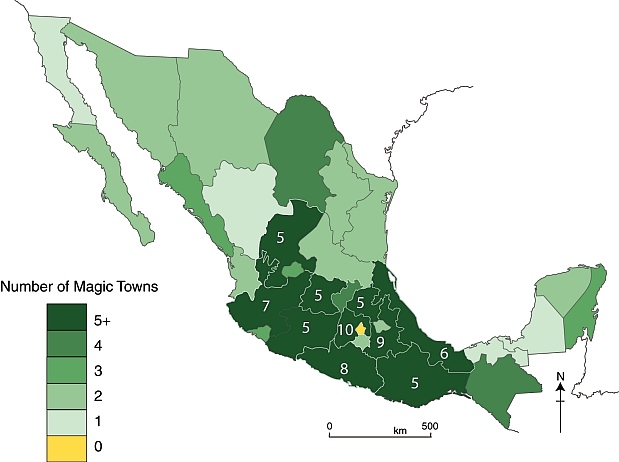 Towns in the program are eligible for federal grants towards maintenance, rebuilding historic centers, improving infrastructure, installing underground utilities, developing tourism products, training and other projects. According to Magic Town proponents, the program increases visitor numbers and income by between 20 and 30%, though it is very hard to see where such positive numbers come from.
The latest 28 additions to the Magic Towns program are:
San José de Casas (Aguascalientes)
Candela and Guerrero (Coahuila)
Palenque (Chiapas)
Aculco, Ixtapan de la Sal [incorrectly given as Ixtapa de la Sal in the press release], Teotihuacán, San Martín de las Pirámides and Villa de Carbón (State of Mexico – Estado de México)
Tecozahutla (Hidalgo)
Mascota and Talpa de Allende (Jalisco)
Sayulita, (Nayarit)
Linares (Nuevo León)
Huautla de Jiménez, Mazunte, San Pablo Villa Mitla and San Pedro y San Pablo (Oaxaca)
Atlixco and Huauchinango (Puebla)
Isla Mujeres and Tulum (Quintana Roo)
San Joaquín (Querétaro)
Mocorito (Sinaloa)
Tlaxco (Tlaxcala)
Coscomatepec, Orizaba and Zozocolco (Veracruz)
Source: http://geo-mexico.com/
Comments
comments