According to the World Wildlife Fund's website, sea turtles are classified as endangered, often poached for their eggs and meat, or killed for their conch. And Mexico is no exception.
However, in the past 12 months, Tourism and Environmental authorities in different parts of Mexico have been working in coordination to create awareness about the importance of preserving and protecting sea turtles .
On July 17th, The Yucatan Times published a news story stating that more than 1 million baby Lora sea turtles were released out to sea in the Mexican state of Tamaulipas.
And today we want to share with our readers great news about the preservation of these gentle creatures:
QUINTANA ROO
State Authorities to Organize Voluntary Groups to Release Baby Turtles
If you are on one of the beautiful beaches of Quintana Roo and suddenly find a baby turtle walking towards the sea but do not know what to do, or if you want to belong to a group dedicated to free baby tortoise, you have to read this.
"To coordinate the activities to release these animals out to sea, it is necessary to have a better control and follow the proper regulations", said Marcela Castañeda Guerra, State director of Natural Resources during an interview with Grupo Sipse.
"Turtle release activities need to be carefully planned because they have to be done in small groups, these activities are not massive anymore," she said.
The State director of Natural Resources explained that people who want to participate have to make an appointment by calling the State office of Ecology, Ph.- 881 28 00 ext. 2283, where all the information on how to participate in the release of baby turtles will be provided.
In case of encountering turtles that have hatched in broad daylight, what you need to do is to notify the nearest lifeguard or security guard of a hotel, since these people are trained in this regard.
Once an appointment has been scheduled to help newborn sea turtles, keep in mind that you must carry hand sanitizer for use before and after the release.
It is also important to know that you are not allowed to use cameras with flash or white lights; in case you want to take a photograph you must cover the camera flash with red cellophane, because white light is highly harmful for the newly born tortoise.
---
JALISCO
City of Vallarta Now Caring for 223 Sea Turtle Nests
Puerto Vallarta, Mexico – After only about a month since the sea turtle nesting season began in Puerto Vallarta, the municipal government's Department of Environment and Ecology has already collected 223 nests comprising around 22,331 sea turtle eggs.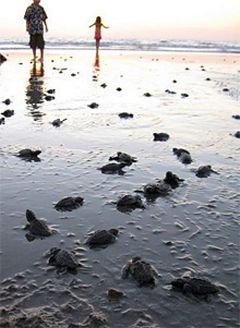 The average time for eggs to 
hatch is approximately 45 days
Juan José Navarro Amaral, the head of the agency, said the average time for the eggs to hatch is approximately 45 days, which means they expect to begin releasing the baby turtles in mid-August.
"This is possible thanks to the program that we have for the Protection of the Sea Turtle, which includes activities like night tours for localization and collection of the nests and hatchling release, which complement the awareness and efforts that we make throughout the year to make the people of Vallarta aware of the importance of the conservation of the species," said the city official.
Surveillance tours begin at 10 pm each night, from Boca de Tomates to Boca de Tomatlan, search for nests or nesting turtles. In order to protect them, the nests are carefully collected and transplanted into the Department of Environment and Ecology's nesting corral on Holi Beach.
"On July 31 we had our first training session for volunteers who want to participate in the turtle protection tours under the Vigilante Tortuguero(Turtle Watchers) program," said Juan Jose Navarro.
The municipal official said that if you see a turtle nesting, you should report it to the Department of Environment and Ecology, via telephone 322-160-3279, or the Medio Ambiente Puerto Vallarta Facebook page. (Where you can also get volunteer information.)
It is recommended that you maintain a minimum distance of 10 meters from the nesting turtle, do not shine light directly on, nor take flash pictures of, the turtle because that could disturb her and make her return to the sea without laying her eggs, which affects her health.
Once the turtle has laid her eggs in the sand and made her nesting bed, avoid stepping on the area as it makes it hard for the mother to find her way back to the nest, plus it could compact the sand and prevent the hatchlings from leaving the nest. (If the nest is not found and transferred to the city's nesting corral.)
Original article translated and edited by Lorena Sonrisas for BanderasNews.com.
---
VERACRUZ
Sea Turtle Festival
The Sea Turtle Festival will be held from 8 to 9 August in one of the most beautiful natural scenery of the State of Veracruz, Chaparrales beach, in the Cazones de Herrera Muncipality.
The activities begin on Saturday August 8, with a walk along the beach of Chaparrales, where turtles will be released.
The Municipal Director of Tourism of Cazones de Herrera, Raul Godinez Garcia, declared: "We hope that tourists who visit us be careful with the environment in order to preserve this place, which represents a space where 200,000 turtles are born each year, tourists need to be respectful and responsible towards nature, for these turtles continue to be born, in 15 years they will become adults and return to nest on the same beach where they were born, and by that time, Chaparrales still needs to be the same quiet and peaceful place it has always been".
---
Much can be learned about the condition of the planet's environment by looking at sea turtles. They have existed for over 100 million years, and they travel throughout the world's oceans. Suddenly, however, they are struggling to survive — largely because of things humans are doing to the planet's oceans and beaches.
It is possible that a world in which sea turtles can not survive may soon become a world in which humans struggle to survive; so by preserving and protecting them, we might just be saving ourselves too.
Sources:
Comments
comments